ABOUT THE PROJECT
HealthCare.com is a website aims to help people become better healthcare consumers by offering a Kayak.com style model of showing health insurance and Medicare plans.

MY ROLE
For 3 months, I led the design refresh of HealthCare.com's organic assets, from web and mobile prototypes to the handoff to engineers.  
As the lead designer on this project, I was responsible for redesigning the landing page, onboarding flow, and the overall health insurance shopping experience. I flew to Guatemala with the VP of product to orchestrate a smooth handoff to the engineering team, and continued to oversee the project after returning to NYC. I worked closely with the CRO team to optimize the conversion, lead funnel, and monetization of the organic channel through the use of A/B testing.
PAIN POINTS
After conducting some user testing of the current HealthCare.com website, I found a pattern of pain points that people complained about.
• The design of the website was cluttered and did not look trustworthy.
• 3/5 complained that the form felt long.
• 4/5 complained that they didn't want to disclose their personal information to see their health insurance quotes.
• 2/5 complained that the results page was not informative enough.
DESIGN SOLUTIONS
1. A more trustworthy landing page
Many users saw the landing page and immediately judged it to be untrustworthy. The use of stock photography and overwhelming amount of text made health insurance seem even more complicated than it already was. 
Assuming that people are already stressed by health insurance, I simplified the copy, used white-space more effectively, and highlighted only the most important value propositions. This made the UI simpler and more digestible.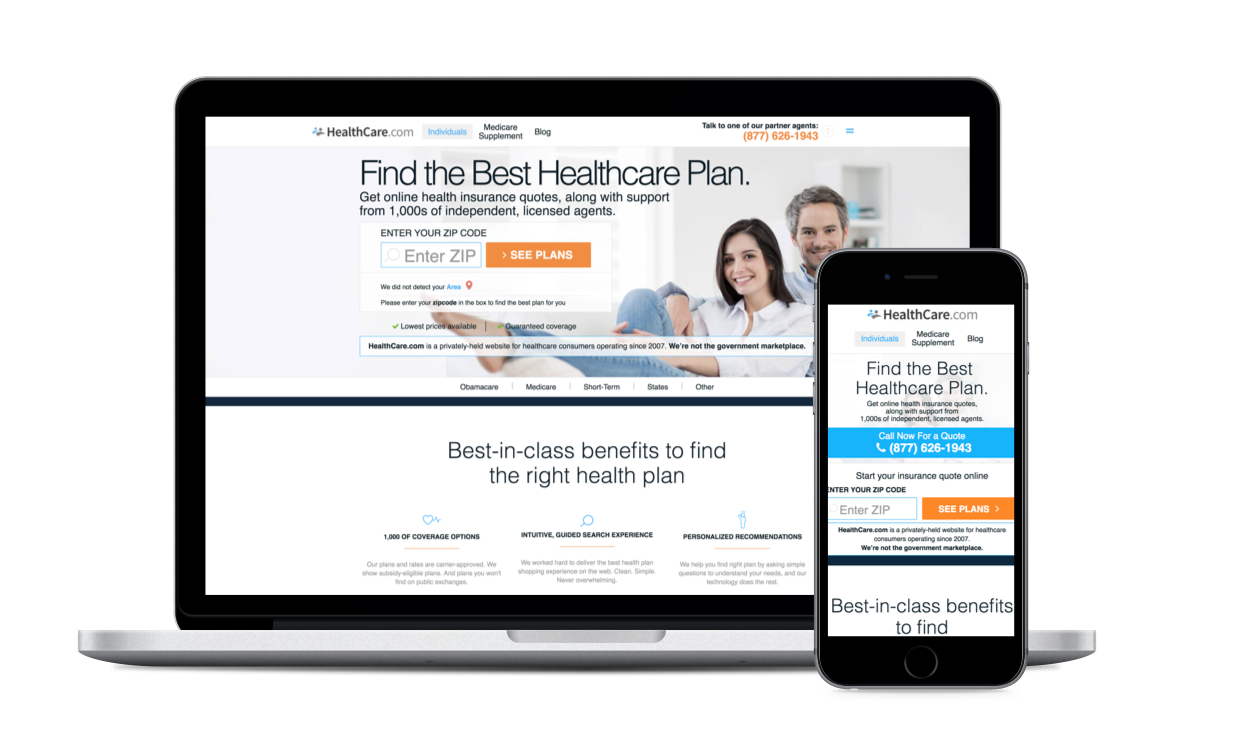 2. Simplification of the quote flow
When shopping for health insurance, users are averse to disclosing personal information, such as date of birth, tobacco use, and annual income. Since we needed personal information to give users accurate quotes, I chose to be completely transparent and explain why we needed each piece of information. For example, users are much more likely to fill out a personal income field if you say, "Your income may qualify you for a discount on you monthly costs." To highlight this transparency on each input field, I split the form into multiple, simple steps.
I worked with the CRO team to implement the "multiple step" test into our paid funnel. After some tweaking of copy and the order of questions, we saw an
 23% increase
in quote completion.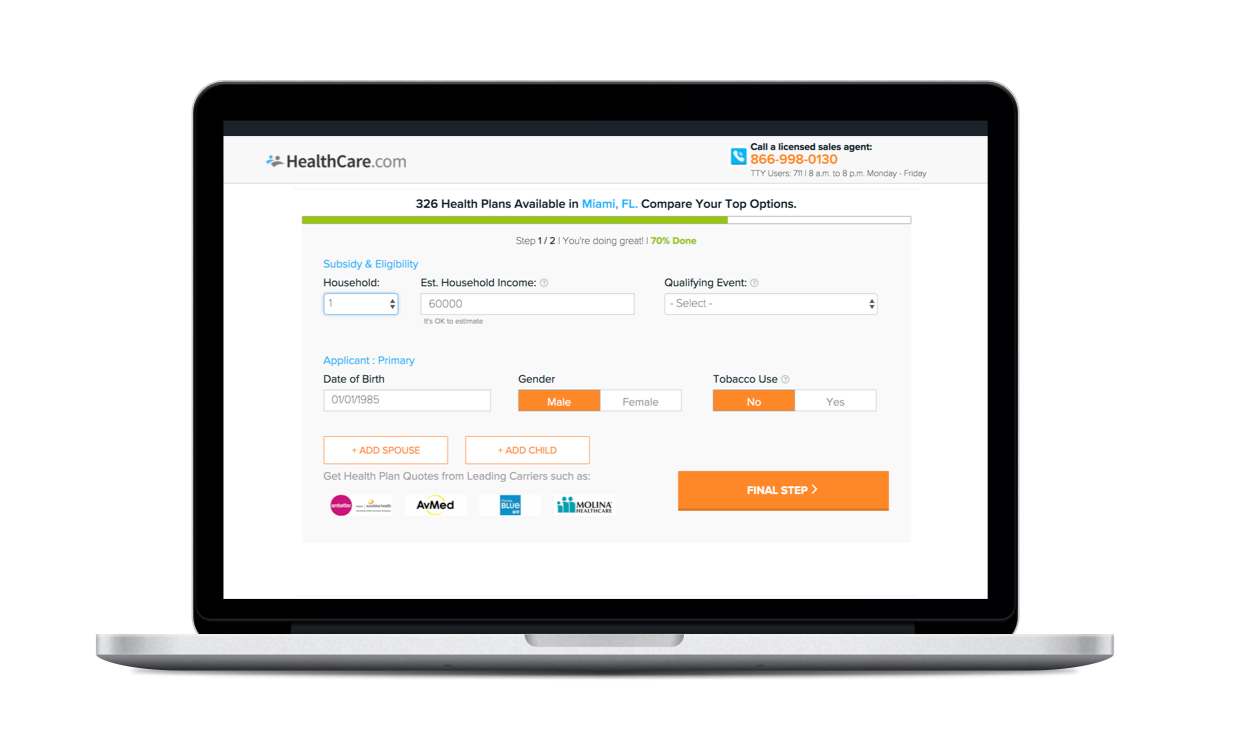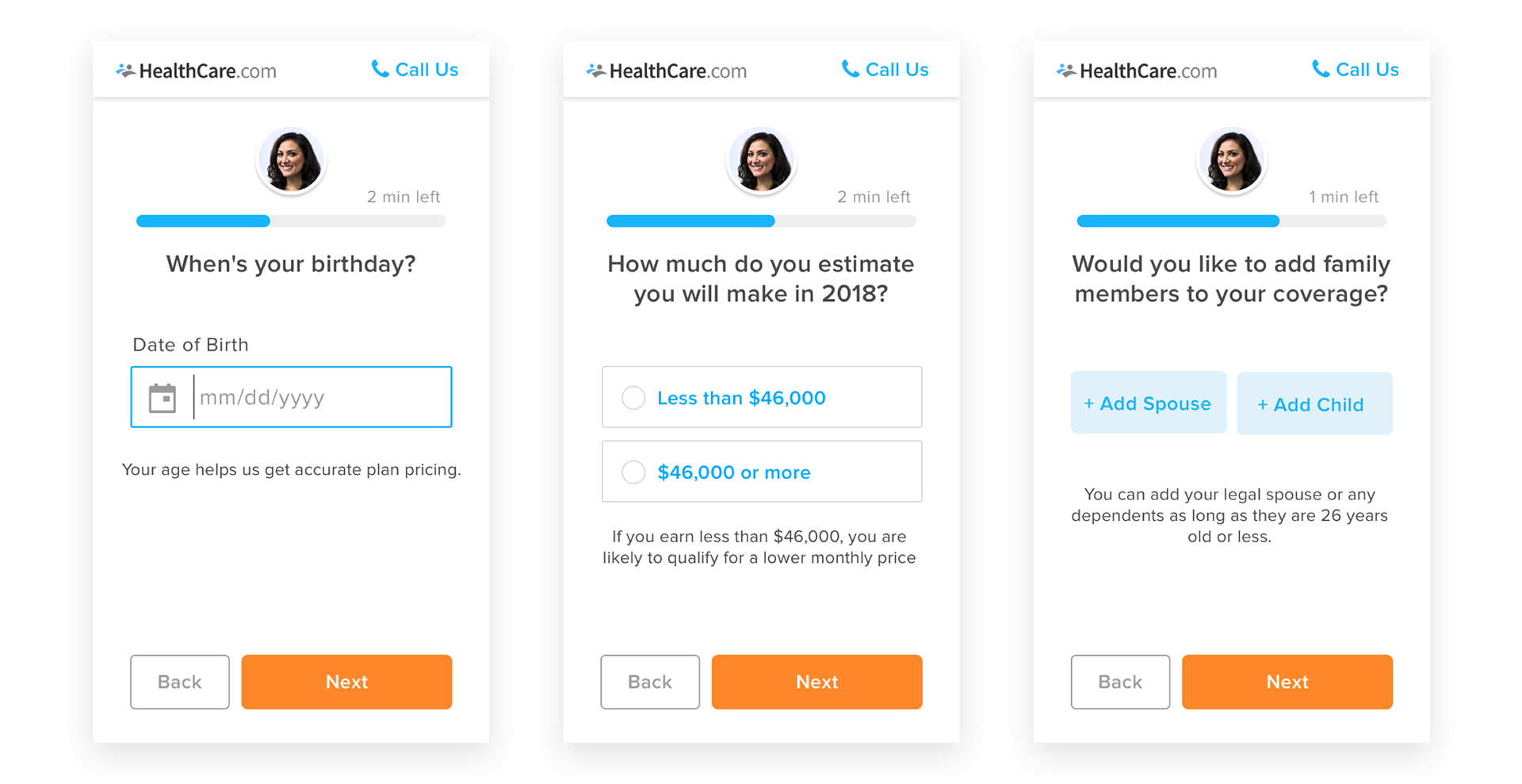 3. Higher converting lead experience
Lead generation is imperative to HealthCare.com's business, but again, users generally do not want to give such personal information. After multiple rounds of A/B testing, I found the right step to show the lead form: overlayed on top of the results page. At this step, users have already invested time into filling out the quote form, and the overlay makes it clear that they are one small step away from seeing their results.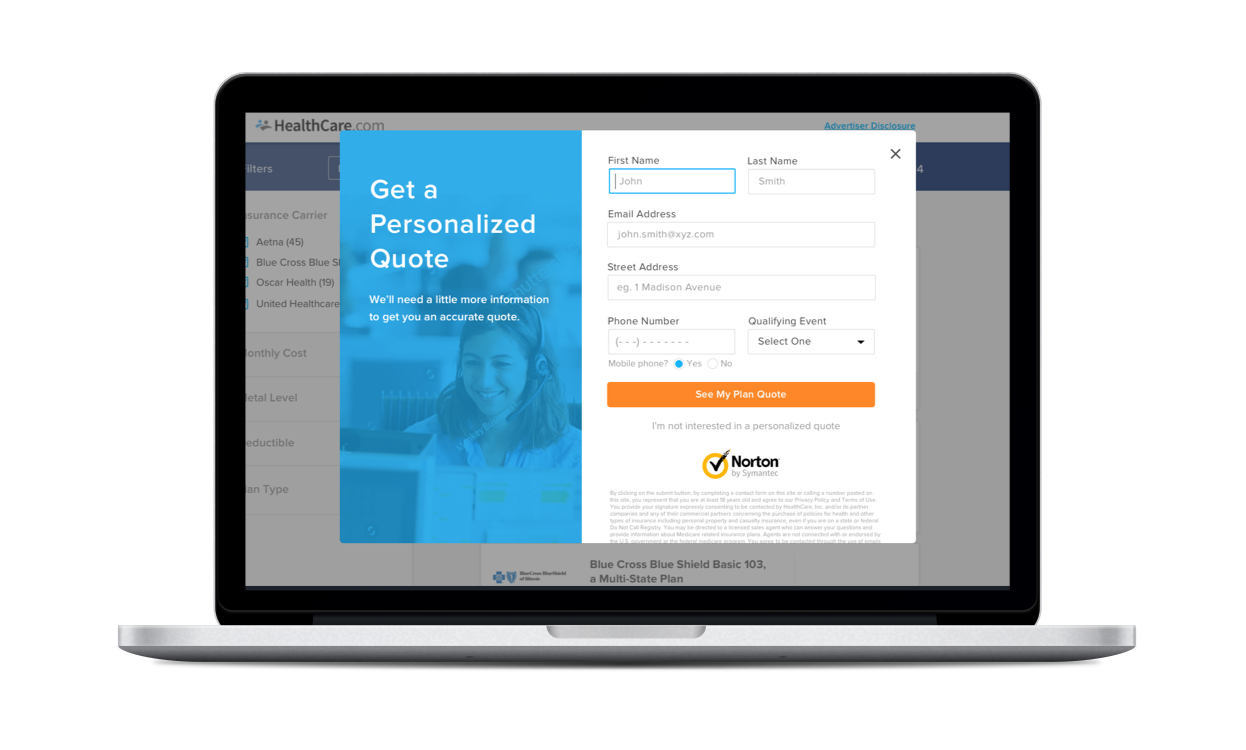 4. Helping the user make more informed decisions
According to user testing, the current results page did not give users enough information to feel comfortable buying a health insurance plan. They wanted to know if the plan covered doctor's visits, pregnancy, or emergency care. Furthermore, they wanted to easily compare plans to make the most informed decision possible. I solved this problem by adding a compare function, as well as designing a simple, easy-to-navigate plan details page. Users found the new features so useful that some even emailed us to thank us for our help!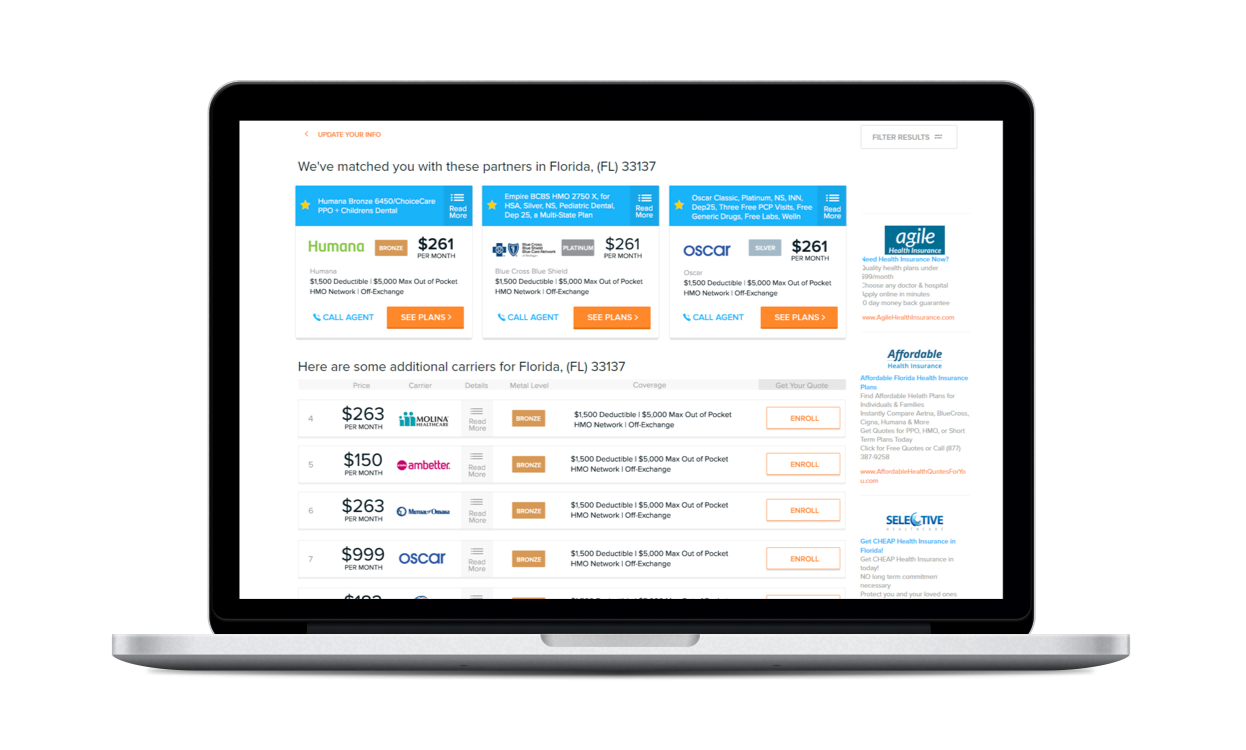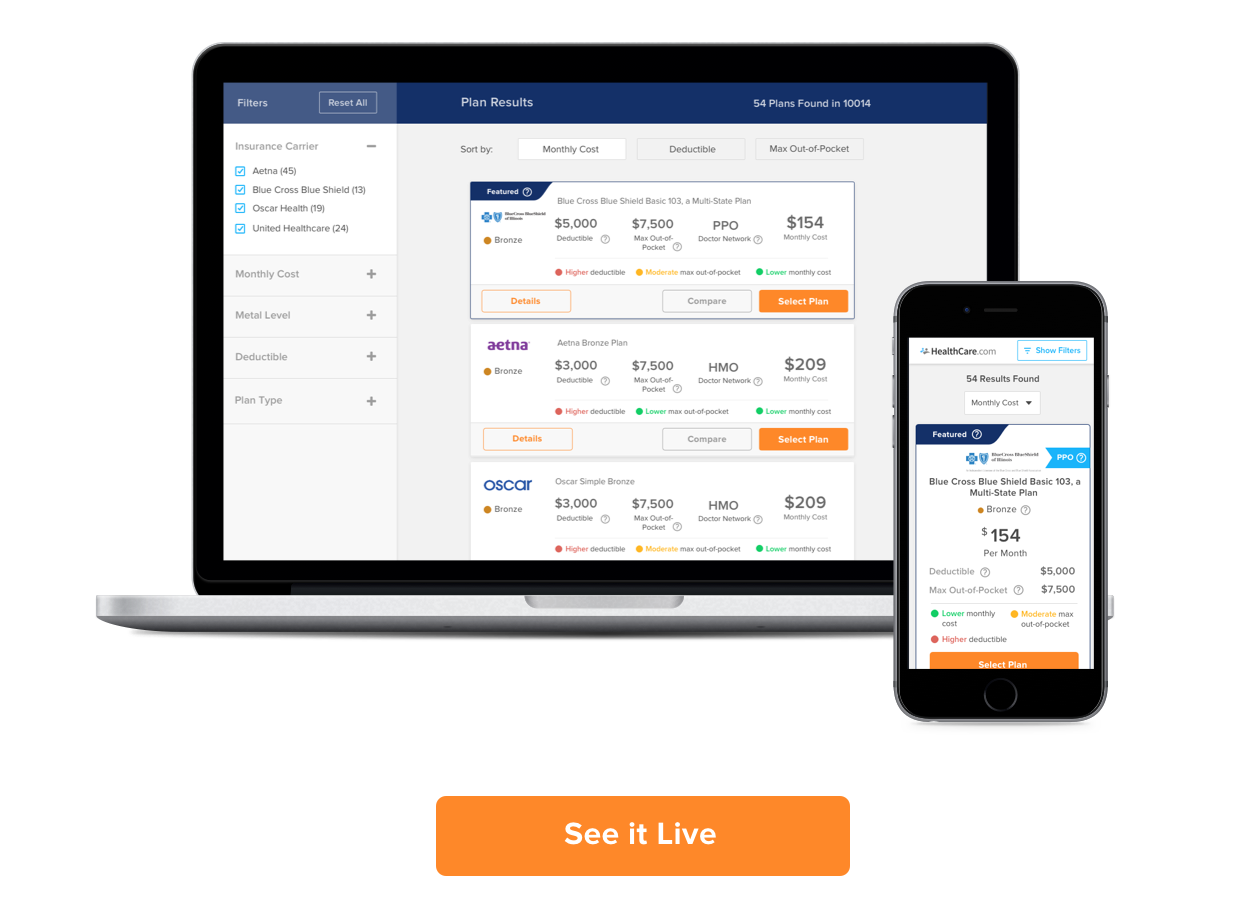 To see the plan details page and comparison feature, please explore the live version.